Saying goodbye to the collaboration, now my travel trip in Goa began. From getting to know more and more people in Piggy Hostel to witnessing another breath-taking sunset at Anjuna Beach, from giving a polaroid to Adi and bidding goodbye, spreading happiness on my way (something I learned from a fellow traveller), to finally trying coffee liquor, now my solo trip had begun.
So here I am sharing with you the best parts about Goa!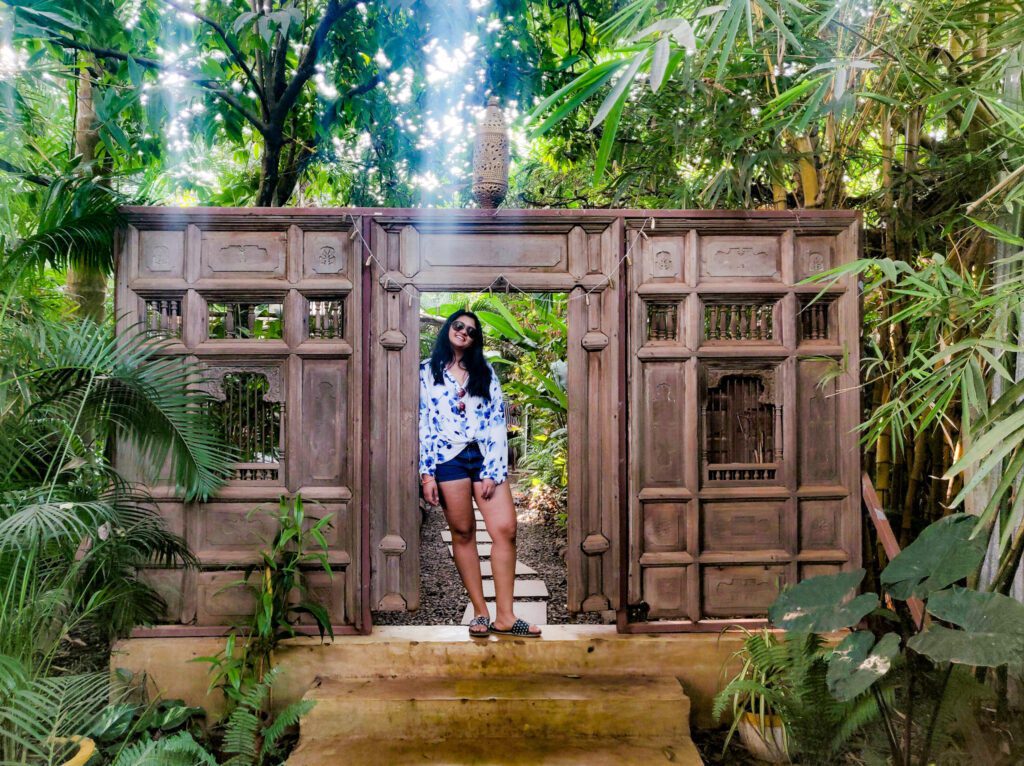 Why you should visit Goa
I have been to Goa four times now and I think the best thing about Goa for me is that it offers everything and it is up to me how I want to go about on my trip. From being the adventurous hiker to being the drunk girl always in a hangover; from exploring different parts of Goa to praying at the church and dancing all night in clubs; from stargazing at night to watching the sunrise and sunset, I have done it all.
There have been days where I have spent every minute trying something new and there were days that I spent just sitting by myself thinking, sometimes walking and sometimes writing, and some other times doing nothing at all. I have been the drunk party girl, and I have been the, 'I just want to be with nature' girl. I am simultaneously the extrovert who interacts with everyone at a hostel and the introvert who enjoys the walk alone on the sandy beaches. I have even been there with family and cousins. Goa has given me a lifetime of experiences in a breath of what I have lived. It is an amazing place to be at.
And the best part, Goa always brought a part of me to myself that I knew nothing about. The place made me know myself in ways I could not have imagined.
With that said, I am going to give you my personal tour of Goa. The way I see it and the places that have become my constant. Be it for food, stay, sunset spots, or just enjoying the different lives that one can live there.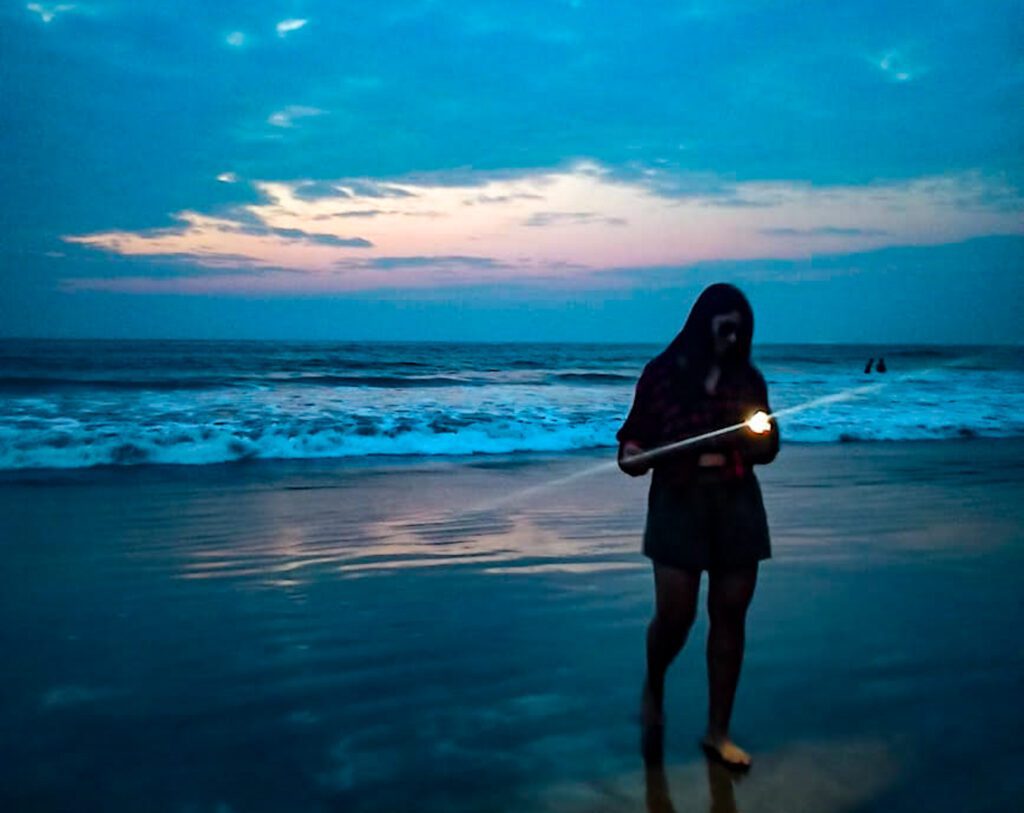 Interacting with locals: The best part about any trip
I think interacting with locals always constitutes a large part of my trip and it is something which makes me feel really happy.
I told you about the little girl I met on my birthday eve to whom I told the 'secret to dancing' in my last blog. That was my first interaction with a local on this trip and from the moment I went solo the interactions became endless. I remember the day before my last there, that I spent interacting with 2 locals, Sameer Bhaiya and Sushila Didi, and understanding what downsides COVID brought to their life, and finally gifting Sushila Didi the anklet she wanted me to buy for my mother. On my last day when I was getting off the scooty, a lady called me out and said, 'Aaj Kajal yaha ghumne aayi hai'. I reminisce the smile on my face, thinking she remembers me. All this, and so much more, I will definitely recommend you to interact with locals irrespective of whether you travel solo or not. They offer such great insights about things that you might have never even wondered about. They are so simple yet so unique in their own way.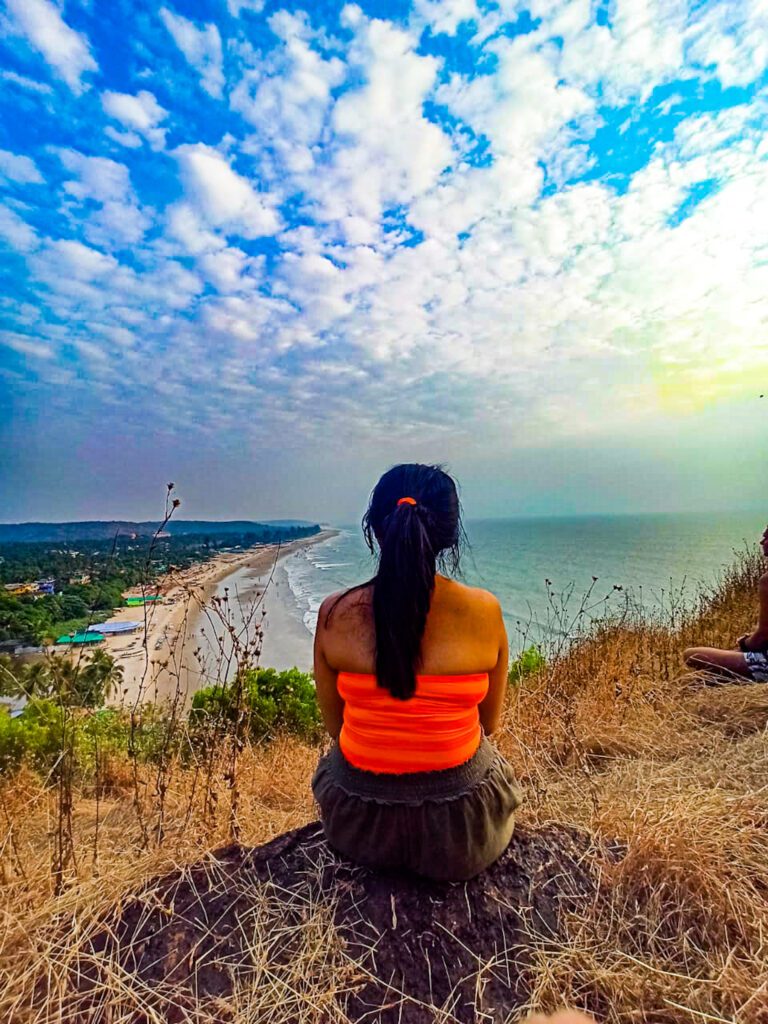 Best sunset spots in Goa
Now this is for all the sunset lovers out there (just like me)
Short trail near Aguada Fort: Away from the famous sunset point which is at the fort, there is a small trail near the fort where there is no crowd or hustle-bustle.
Hike at the end of Arambol Beach: At the right end of the Arambol beach, you will notice a small mountain, hike to the top to witness one of the best sunsets in Goa that too in a secluded place, away from the noise and crowd, just like sunset lovers like it
High shacks on Anjuna beach: Located in the middle of the beach, amidst the shacks, you will find a high, open bed-like structure that you can reach by climbing on the stairs. Watching the sunset from there with the breeze in your hair, and a parallel view of the sun and the sky is such a delight!
For all the crowded beaches: Always walk till the very end of the beach, you will always find secluded regions there, or walk in the middle of the water (till you find it safe) and find some rock to sit on and witness the sunset from there. When there is water on all sides and sunset in front, nothing else matters (only recommended for adventure lovers, please take safety precautions).
Then there are less known, secluded beaches which give a splendid experience of watching the sunset: Querim Beach, Morjim Beach, Butterfly Beach, etc.
In case you find it difficult to find any of these, feel free to get in touch with me. You can always ask the locals too; they would guide you well.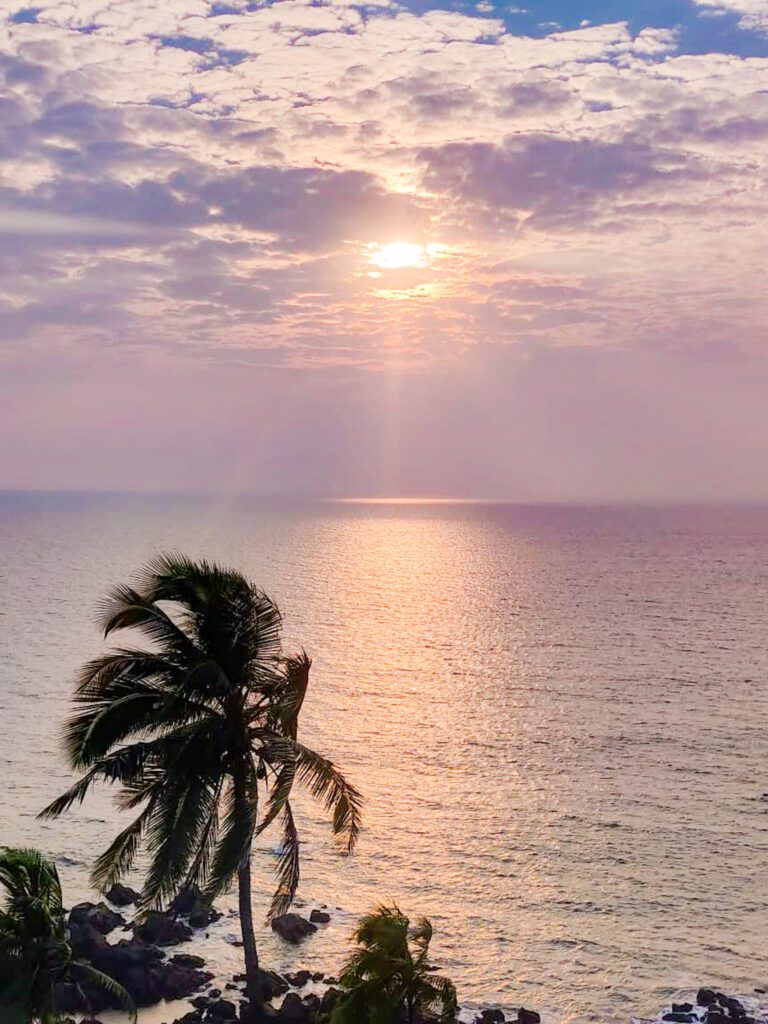 Mitra Hostel: A home for travellers
The things that someone normally searches for when finding accommodation, whether it is cleanliness and hygiene, good food, friendly staff, or great people to vibe with, all that Mitra Hostel has, but it is not these things but something else that makes it stand out for me. Something so simple, and yet something so important. Something so beautiful that now I look forward to visiting Mitra hostel more than visiting Goa. That 'something' is the feeling of belongingness and the feeling of being at home: a safe and caring environment where everybody is constantly showering love on you.
Whether it was cooking fried rice at 2 am for me because I said once to someone randomly that I am hungry, or forcing me to eat on the first day itself when I was so tired that I wanted to sleep without having dinner, whether it was dropping me to the airport, showing me beautiful places, secret sunset points, taking on long drives, always making sure I am happy and safe, I don't know. There are too many examples and things that I can go on quoting which won't suffice the way they treated me at Mitra hostel for my four days stay. A definite recommendation for anyone who visits Arambol.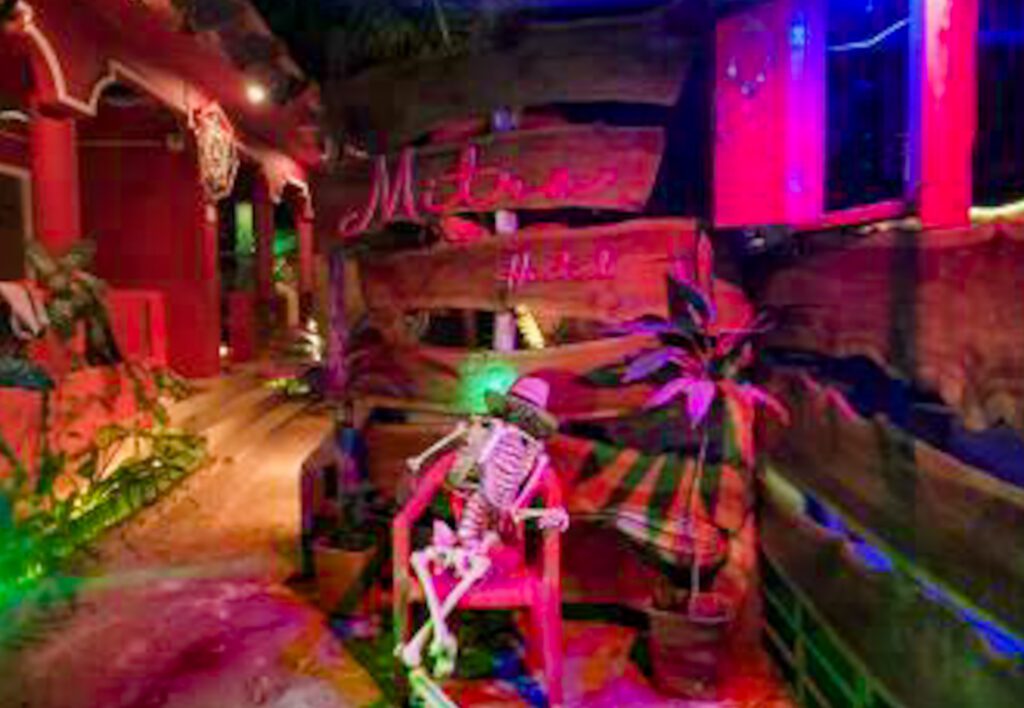 Crazy (or creepy) happening in Goa (Mandatory): Is your name gorgeous?
I was walking back to my hostel from this long walk I had gone to, pretty tired, and eager to reach back for some delicious lunch at Mitra Hostel when a car stopped by, the guy pulled his window down and asked me 'Is your name Gorgeous?', for a second I just stood and wondered if he said 'Gauri' or something and I misunderstood but when I realised that I actually heard it right the first time, I said 'No' (obviously) and moved forward. As I was walking ahead and another minute or two passed by, the car stopped next to me again. This time he wanted to know if I would like to accompany them, if I was a local, if I was traveling solo, and a few more questions of this and that and then, they finally left off, and I thought they must have realised I am not interested. I was just about to realise how wrong I was.
I went inside a local shop for a while, came back, lost in my own thoughts, was walking further when I look in the front and see that guy walking towards me, his car parked somewhere ahead. I was so shocked and started looking around but the road was secluded. He came and said 'Please don't think I am a creep or am stalking you (which exactly is what he was doing), I just wanted to tell you that you are very pretty, are you single', I said 'No' thinking it might shoo him off but then he went all 'Can I have your number, your Instagram id, can we catch up tomorrow', somehow, I gave him my Instagram id and shooed him off again.
Now comes the even crazier part, I was so traumatised by his repeated appearances that I turned around and took this entirely different route within some parks ('Khet' actually) and realised only later that I had gotten lost. For at least next 30-40 minutes, I didn't see even a single human and had come too far to even go back. Somehow my internet started working again, and after what must have been at least another hour, I found my way back. My wish to go on a secluded peaceful work somehow turned into a crazy quest.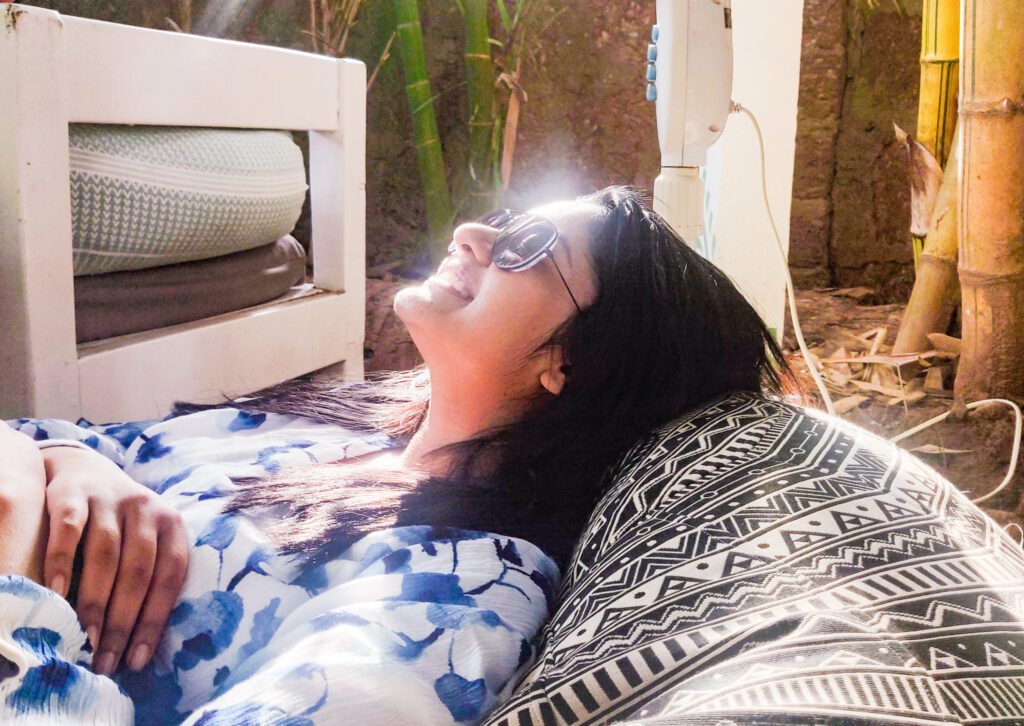 Food & Liquor Recommendations for Goa
Darlings (Vagator) – Pizza (the actual thin crust pizza) and Cocktails (the bartender is the winner of many bartending competitions)
Don Jon (Vagator) – G shot (The bartender's (Gaurav) famous shot 'Chocolate liquor + Vodka')
Baileys + Kahlua (Coffee Liquor) – Definite recommendation for coffee lovers
Garden of Dreams (Arambol) – Best Cold Coffee and Open Sandwich
Mitra Hostel (Arambol) – Fried Rice, Cheese Sandwich, Watermelon Juice, Veg Maggi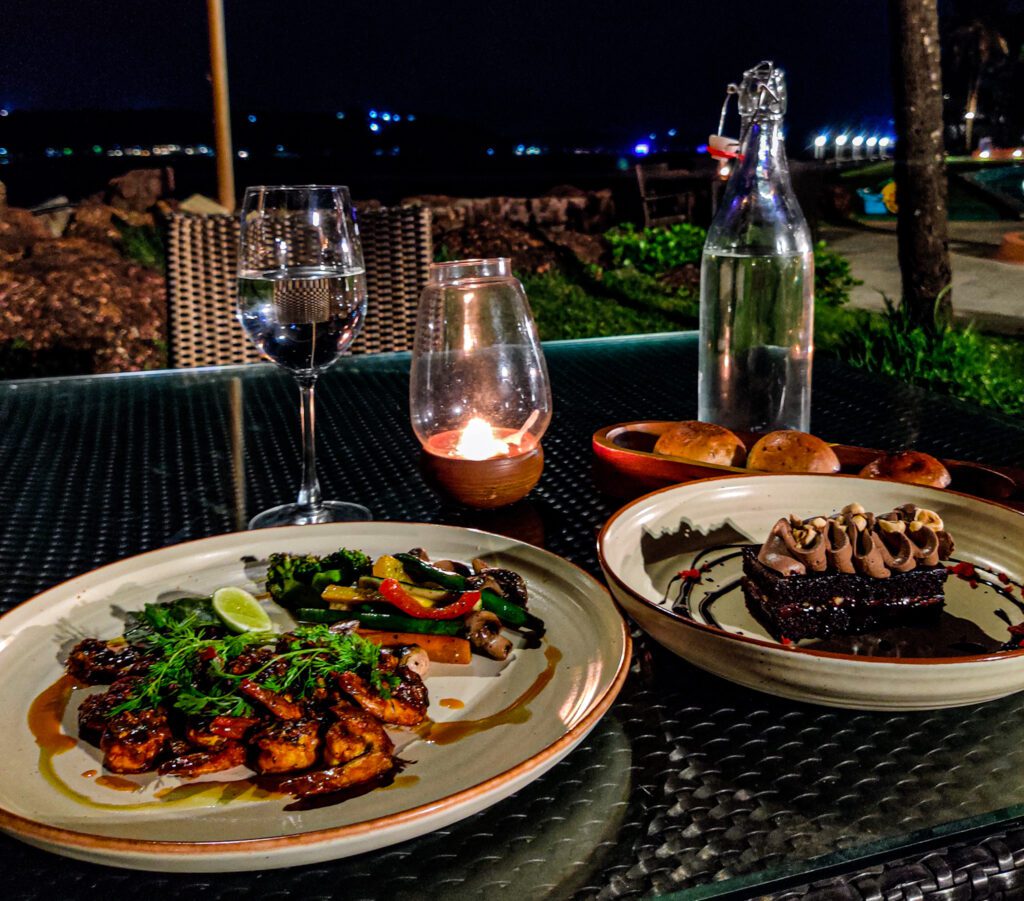 Hostel Recommendations for Goa
Mitra Hostel (Arambol) – A home for travelers, can't define it in any better way
Piggy Hostel (Vagator) – Its café serves mouth-watering cocktail and Goa's best Spaghetti
Footloose (Vagator) – Specially recommended if you are visiting at the time of Sunburn, the venue is usually within walking distance from this Hostel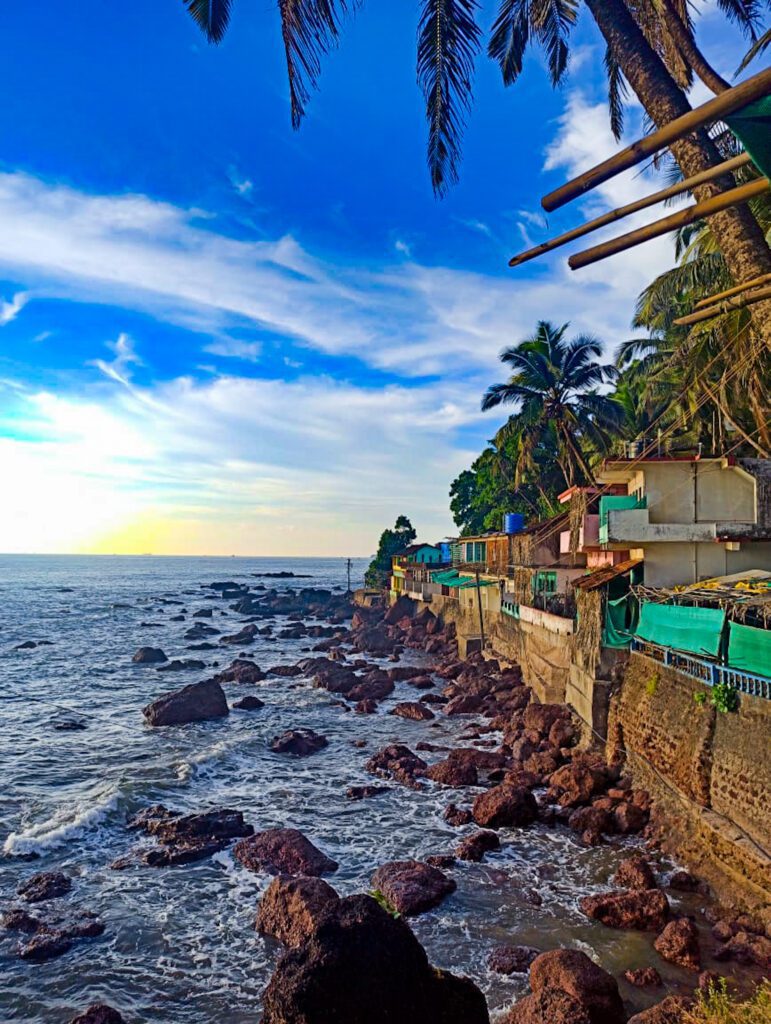 Best beaches in Goa
Baga Beach – Tito's lane (For all the party lovers out there)
Anjuna and Vagator Beach – For water sports lovers
Arambol Beach – Less crowded and very peaceful